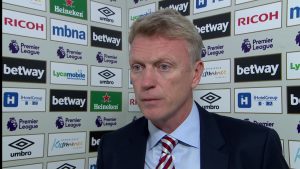 David Moyes is tonight being reported as being only interested in players with Premier League experience as he heads towards the January transfer window.
Despite the Hammers announcing that their issues with Sporting Lisbon have been sorted out the BBC reports that Moyes is probably unlikely to go in that direction.
West Ham have spent only three of the past 25 seasons outside the top flight but are 19th in the table on 10 points.
Moyes, has been assured he will have money to spend in the transfer window and while another move for Carvalho is not being ruled out, it is understood Moyes feels knowledge of English football is key if signings are to have an immediate impact.
The obvious conclusion from the Hammers statement on the Sporting situation was that the club were ready to go back in for Carvalho but it seems Moyes may have other plans surrounding the Premier League.