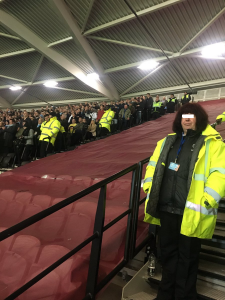 An investigation into a report that a London Stadium steward wore a Chelsea football coat  on Wednesday night has claimed it was an honest mistake by the female steward.
The steward was photographed wearing the Chelsea coat under her yellow high visibility steward jacket but the stewarding company insist she is not a  Chelsea fan and only bought the coat from Sports Direct because it was cheap.
The steward was blissfuly unaware of the implications and upset it could cause to rival West Ham fans and has apologised for her actions. Her photo went viral on social media on Wednesday night after she was spotted on duty close to the away fans.
ClaretandHugh have been told that all London Stadium stewards have since been told not to report for work with any other club's merchandise.
Supporters are encouraged to report any breach of this rule on the day/night of the match so any potential future infringement could be quickly tacked on the day.