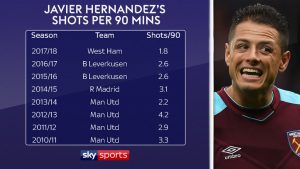 "If you're looking for a centre-forward with a history of scoring goals, it doesn't get any better than Javier," Mike Phelan, Sir Alex Ferguson's former assistant at Manchester United has told Sky Sports.
"But there is another side to it: Can you provide the service for him to score the goals? If the service is there for Chicha in and around the 18-yard box, you can guarantee he's one of those players who will hit the target more often than not, which means he'll score more goals than he'll miss. It's just a question of how you play to him."

"He's a joy to work with," Phelan says. "He comes in, he's prepared to train, he works hard, he smiles but he also gets annoyed. He's always had all the ingredients of a top player.
"For him to come back to England was a big decision for him. He's not Mexico's top goalscorer for nothing and he's not had the career he's had for nothing. It's up to West Ham to get him in there and show everybody that he's the player who can turn their fortunes around."