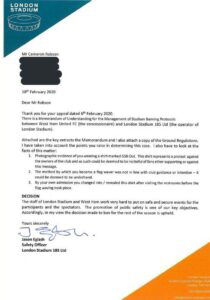 West Ham season ticket Cameron Robson has had his season long ban over turned and reduced to two match ban just one day after having his ban appeal rejected.
Robson posted his London Stadium  appeal rejection letter yesterday on social media. The communication from LS185 Safety office Jason Eglash told him his ban was being upheld because of photograph evidence that we worn a shirt marked 'GSB Out' which could be deemed incitement, the deceitful method by which he became a flag waver and an admission himself that he concealed his shirt before going on the pitch as a flag bearer.
It is thought that West Ham Vice Chairman Karren Brady personally intervened today to over ride the LS185 appeal letter with Robson announcing just after 3 pm "We get a call from West Ham for an urgent meeting at Stratford. Long story short, I've effectively sat a two game ban, Brighton and tonight. Seasonal ban is no more, all overturned. I'll take that. See you all on the 29th at the gates"
It seems that Common Sense has finally prevailed at last and maybe the board have taken their first small step to make peace with the protesters.