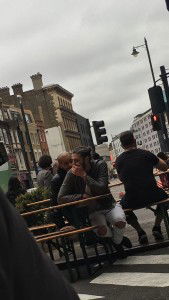 With widespread  stories circulating on social media that two West Ham footballers were out on the town today at a time when the manager is under intense pressure, ClaretandHugh has been conducting it's own inquries in a bid to discover the true facts.
Had the story not appeared already on national newspaper websites we would have had to think  carefully about our approach to this story but since it has been taken out of our hands here's what we discovered.
Having learned the names of two places that Andy Carroll and Darren Randolph allegedly visited on their journey we have to report the stories appear to have  substance.
We rang The Market Porter pub in Borough Market and spoke to a senior member of staff who told us the pair had arrived at between the early opening hours of 6 am and 9 am this morning (Tues)