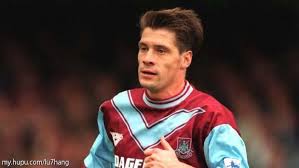 EXCLUSIVE
Here's the good news: Tony Cottee has little doubt the Hammers will get out of their current problems.
Here's the not so good news: the owners need to spend a small fortune on the club at grassroots level if we are ever going to move to the next level.
TC  – in a no punches pulled interview – told ClaretandHugh he believes once we get Andy Carroll up to speed and Winston Reid back, we're a better team than most of the squads involved in the relegation battle.
But he snapped: "The excuses have to stop soon and the points have to be collected. February is absolutely crucial when we have Swansea, Norwich and Southampton at home and Aston Villa away – utterly crucial.
"If we can come out of those games with eight or nine points, as we should, I think we can get out of it because we have a better squad than the others around us."
If he's putting a brave face on things he's doing particularly well because he does seriously sound convinced all will be well.
He said: "Already you can see that Andy is worrying defences. They back off him because in full flight he's a scary proposition and he's barely match fit at the moment.  As he gains more match fitness he'll be fearsome.
"And in Winston we have one of the best defenders in the Premiership. He's not far away and will make a huge difference when he returns. He'll organise the back four and there will be a big difference.
"At the moment you have about eleven teams involved in the relegation battle and they are all much of a muchness but we will have our good little run – every team does and things will look a lot different.
"James Tomkins and Kevin Nolan are available again as well and although some would argue we haven't been a great team all season,  I believe that can change as the battle hots up.
"I do genuinely believe that things will look up and we'll get out of it – honestly!"
Long term however, TC believes there has to be big change at the club and that we need to re-organise at grass roots level.
He said: "We have a training ground we were using when Mooro and the lads were around. The only difference is that it has a few portakabins on it now.
"Look at this Lacina Traore situation: A player comes over from France takes a look and sees, for example, what's available at Everton – where is he going to go…where would you go?  Everton!
"Having said all that it does look as though we have been witnessing the dark side of football doesn't it.
Investment is needed at that level,  acadamy level and everywhere else. If we are going to stop our clubs constant yo-yoing between divisions we need to get the foundations of our club right.
"We are trying to put the roof on before the foundations are in place and that can't happen. We have to push on in a logical and progressive manner. It's the only way."