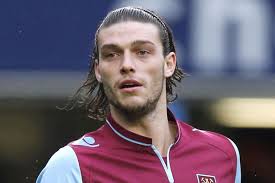 Sam Allardyce has indicated that  Andy Carroll is set for a more extended run-out against Manchester City at Upton Park tomorrow night.
The Hammers – facing something beyond a six goal 'Mission Impossible' -will take the opportunity to get some 'hard time' into the big striker as he builds towards full fitness in the Capital One Carling Cup Semi Final second leg clash..
Addressing his morning press conference manager Allardyce said: "Andy Carroll will get another game, at some stage he'll get more minutes than he's had in the last game, which is obviously another important factor for us.
"Hopefully we can give Manchester City a really tough game Tuesday night and try to get something out of it."
He explained that he had few options to change the team but said: "I have got the option for is fresher players that haven't played on a consistent basis, with our problems recently.
"We will not have anybody of any inexperience out on the field, apart from probably Ravel Morrison, who's still early in his career at this level of football on a consistent basis.
"The rest of the team will be very, very experienced in terms of their games at this level." 
On the Carroll recovery programme he said: " Every game he's getting fitter]. I think that there's a period of time where we're talking about increasing the game time and we have to be patient enough to increase that in competitive matches, where we're desperate for results.
"Our desperation for a result on Tuesday is about pride, not about anything else.
"Andy's going to compete in a game for the first time just a few days after competing on Saturday, which is something we're looking forward to, in the hope that there is no problem, knowing that he's getting even closer to a full 90 minutes.
"Our other scenario of course is to continue to get Joey O'Brien, Winston Reid, George McCartney from the defensive point of view, back and playing as quickly as we can.
"Ricardo Vaz Te joins in training.  People tend to forget about the players who are on the long-term injury list, like him, that are very important to your team and your squad. When he went of the team he was scoring goals for us and was in good form and then we lost him.
"We'll have a strong team out, but other players are looking closer to coming back from injury, which is very important for the next 16 Premier League games."