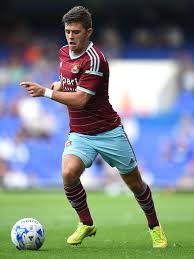 Aaron Cresswell has a very good reason for wanting to beat Everton apart from wanting a long Hammers FA Cup run – he's a Liverpool supporter!
The club have been focused on a decent run in the competition this year as one of their major priorities and Cresswell has made it clear how important the game is to him personally.
The left back has been a major player for the club since arriving from Ipswich in the summer and is thrilled at his own progress.
He told the official club site: "I'm delighted with the way it's gone for me on the pitch. I just keep my head down, work hard every day in training and look forward to every game that I play."
Primarily he is focused on seeing the Hammers into into the next round and said: "It's the FA Cup, it's massive.
" Of course we'd like to finish as high as we can in the league, but it would be nice to get a little FA Cup run this season, so we'll just have to see where we go.
"When you grow up in Liverpool, you're either a red or a blue and for me, it was red. So going up to Merseyside as well, playing against Everton, it will be nice to be back and we'll be looking to get through to the next round. We want to get a good run in the cup, so hopefully we can get the result."