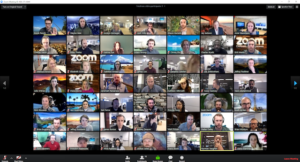 Danish supporters used Zoom to be part of the action for a Superliga match in Denmark.
Thousands of Danish soccer fans logged into the conferencing software last Thursday evening and were transported into the Ceres Park stadium for a league game between AGF Aarhus and Randers that heralded the resumption of the country's football season.
Families wearing club shirts and scarves cheered inside their living rooms. Some were seen clenching their fists in joy after Simon Piesinger scored with a chip from 40 metres out to put visiting Randers ahead in the 36th minute. The match finished in a 1-1 draw.
Crowd noise was piped in for the match and there were cardboard "spectators" in place in the stands. Like elsewhere games are being played behind closed doors in Denmark.
Last week West Ham supporter Nigel Kahn suggested a similar concept for the London Stadium with the idea and story travelling around the world including Australia, Portugal, Indonesia and the US. It appears the Premier League didn't take up Nigel's Zoom.