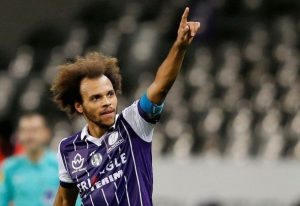 West Ham target Martin Braithwaite has revealed that he plans to leave Toulouse this summer.
The Hammers have been previously interested in the Danish forward, who scored 11 goals in 34 Ligue 1 games this season and he is thought to remain on a long list of strikers who might be available this transfer window.  Braithwaite has now revealed his plans for the summer.
"The time to leave Toulouse has come," he told DR Sporten in his native Denmark. "It will happen this summer. The summer is long. I do not know when a decision will fall, but I remain calm.
"The Bundesliga and the Premier League are great leagues and interesting for me"
Southampton and Crystal Palace have also been linked with interest for Braithwaite.
Favoured West Ham agent Mark McKay is well connected with Toulouse but Braithwaite in likely to high up in the list in terms of priority.