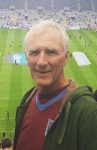 By CandH blogger Allen Cummings
David Martin modestly paid tribute to the travelling Claret and Blue army for getting the team through Saturday's vital encounter with Southampton.
But we all know the 33 year old 'keeper is massively underplaying his part in that victory, and his own influence on the team, which has been instrumental in a welcome change in fortunes in recent weeks.
Six points from four games is a decent haul, particularly for a team under pressure. The question is, had Martin been introduced sooner, would the pressure whic reached fever pitch in recent times, particularly on the manager, ever have materialised at all?
Would his job security never have been questioned? Would all those resurfaced old wounds about lack of investment in players, underachievement at the club, broken promises by the board remained off the agenda? In other words would the 'crisis', the Armageddon that so many have been forecasting, have been an issue at all?
When Lukasz Fabianski suffered injury at Bournemouth it was generally accepted No2 goalkeeper Roberto would step in. But a less than assured performance in his first game, the home encounter with Crystal Palace should have flagged up the warning signs.
Had Pellegrini acted there and then in giving the shirt to David Martin, would the carnage of the next few games have been avoided? Everton, Sheffield United, Newcastle, Burnley and Spurs followed – 12 goals were shipped – with Roberto generally being blamed for at least half of them.
We managed to pick up just a single point – and consequently dropped like a stone down the league. Eventually Pellegrini was left with no option but call for David Martin.
The rest is history of course. The ship has been steadied and our fall arrested. If Martin's introduction had been made earlier, would those lost points have occurred?
If we had picked up just three extra points from those five games we'd be sitting comfortably mid-table on 22 points right now. Four extra points would have taken us into the top half – and we'd have been thinking, as we were earlier in the season, of breaking into the top six.
This doesn't take anything away from the criticism of Pellegrini for his unfathomable stubbornness over Roberto. But maybe it puts into a little more perspective our season so far.