Rumbustious David Sullivan appears to have piled more pressure on boss Sam Allardyce by telling him we must aim for a top six spot next season. In an outspoken interview the West Ham co-owner mad it crystal clear that he wants actions not words next season.
In the London Evening Standard for which Allardyce writes a weekly column Sullivan said: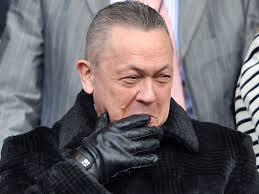 "I don't want to just aim for top 10. We should be aiming for top six. I want to be looking down the table not up it next season. We have got five or six players lined up, most are young players — the youngest is 19 but has already played top-level football in two countries, while the oldest is 27. I can't say more than that as you genuinely risk losing the deals.
I know people think we just say these things but we are working day and night and I want to make sure we get as many of our targets as possible. Of course, we won't get them all because it is tough out there. Every other club is out there competing. I can say we will definitely have younger legs out there. We are trying to buy experience but youthful experience. We want to see players who can play in any of the three attacking positions and who have a proven record of scoring goals. We want people who take on players and go past them, people with movement because we need to add speed to our team. We hope, by bringing in slightly younger players, we will also get a bit more from the players we've got, because they know their name is not automatically going to appear on that team-sheet every match — there is going to be someone pushing hard for every place. We're going to have two players in every position competing for every place in the team."
The 27 year old he refers to in the interview is thought to be Mauro Zarate while the 19 year old is believed to be Domenico Berardi.