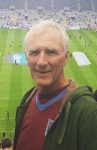 CandH blogger Allen Cummings explains why he had no option but to renew his season ticket – it's in the blood you see 🙂
So  the deal we've all, or most of us at least, been eagerly anticipating is finally done. Pellegrini is the new 'Manu' on the block. No wonder I've got a smug look on my face.
Personal confirmation, if indeed it were needed, that I was ahead of the game. The decision I made last Friday to renew my season ticket was the right one. No doubt about it! YESS!
The emails and texts from West Ham had been arriving almost daily for the past few weeks. The message was being well and truly hammered home . June 1st, season ticket renewal day, was fast approaching and the club's database was obviously showing I hadn't exercised my option. Not made my decision to renew my ticket for the 2018-2019 season, as I had done for the previous 25 or more. Was this a sign the club were worried?
Were they concerned that after the traumatic season we have all just endured, both on and off the pitch, season ticket holders like myself would rebel. Cut up our tickets in a public display of protest. Withhold our support, and money, and stay away in significant numbers. We'd show 'em!
Or were the constant communications simply an automated computer prompt? Like a government car tax or TV license renewal. Did the club really care about little me when they had a waiting list of thousands only too ready and willing to take up my vacated seat?
I fully understand the reasons some people have for giving up their season tickets, they aren't cheap – especially for families! Travel difficulties can be a genuine problem, too. Spiralling costs can be a huge financial drain on the pocket.
But beyond those and similar reasons I struggle. Hating the board? Loathing the stadium? Bitter at the move? For me they don't, and never would, justify giving up on the team.
In the event they need not have worried. For me there was no real option. No decision to make. I wasn't holding on to see who would eventually succeed David Moyes. Whether or not it would be Pellegrini, Benitez, Emery or anyone else for that matter.
I wasn't hoping somehow we'd be linked with a succession of marquee signings. Back in for Carvalho. Pick up again on Dendoncker. Those unknowns weren't going through my mind or weighing heavily on my decision making. I wasn't about to be influenced by, as some regularly like to suggest, rumours put out by the board simply to sell season tickets.
Football doesn't have a comparison site. A 'Compare the Market' or 'Go Compare' where you type in your details. Your personal requirements: Winning titles. Winning cups. Getting into Europe. Being part of the top six. Then press the submit button and the site comes up with a list of clubs as the best options for you.
If they did, West Ham certainly wouldn't be an option. It's obvious if that's the kind of deal I was seeking I'd get much more for my money elsewhere. But my football world isn't like that. It never has been otherwise I wouldn't be where I am today. So why would I change the habit of a lifetime? Stop supporting the only club I've ever had in my entire life.
Yes they've given me plenty of heartache. Yes they've frustrated me. Yes they've infuriated me beyond belief at times. But they have also given me some incredible moment of joy. They are in my blood. A part of me. I feel as much a part of their history as they are of mine.
You don't give up that kind of bond lightly – if at all. Once a Hammer always a Hammer. In sickness and in health. Till death us do part. I made my decision out of loyalty and in good faith. Now I feel fully justified.
I have a much brighter summer to look forward to, and at the end of it the hope that next season under Pellegrini we'll really have something to sing about again.
COYI