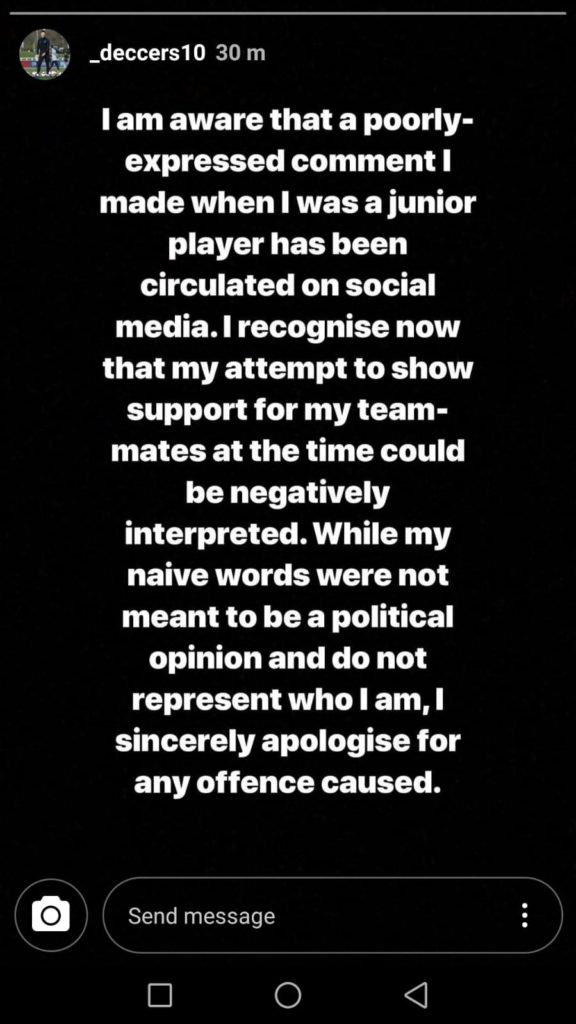 Declan Rice has been forced into making the above apology over comments he made about the IRA on social media as a very young man
We understand the Irish 'troubles' of the past are a deeply sensitive subject – even now – as Rice discovered today when somebody dug up what is believed to be an old social media quote from 2015 which would have made him about 16.
He was  a member of the Irish youth set up but has now issued a statement apologising for what appears to be a pro IRA stance claiming he was naive and that his words were not meant to be a political opinion.
In the post he said: "Up the RA – wait til we draw England."
Quite what mileage there is in this for anybody is not clear but the new England international was quick to make an Instagram apology in which he says his attempts to show support for my team mates could be negatively.
ClaretandHugh says: It's difficult to understand why any comment made by any of us as teenagers should be thrown back at us. We all become different people and it's easy to see how a 15 or 16 year old could be drawn into making such a remark when trying to impress his young international team-mates. He wouldn't have understood how volatile the political situation had been at the time of the troubles back in the 60s and 70s and the way they  still burns in the hearts of many. Declan, however, is learning very early how to handle the price of success which can often be cruel as is the case here. In the social media era responses to people can be savage and in the above statement Declan has hit the right note.Whatever any of us feel about his international decision – and we understand it has caused great upset among many – most Hammers will be  surely wishing him every success as England step out against the Czech Republic tomorrow night.