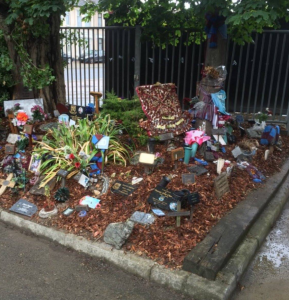 Developers Barratt London have kept the Boleyn Ground Memorial garden open during the demolition and re-development phase of Upton Gardens and it the garden will eventually be incorporated within the development.
The club have continued to visit the memorial garden from the time to time to ensure the gardens remain tidy to respect those loved ones remembered there.
The developers have been briefed of the importance of maintaining the memorial garden and they have assured the club going forward the garden will be checked each morning and cleared when necessary with a minimum of a weekly tidy.
A notice close to the memorial gardens says "This area will not be developed and will be preserved, and family and friends are welcome to visit during and after construction. However this area will be partitioned off during construction for its protection but access will still be provided. We are keen to liaise with those who wish to visit the memorial garden and require access to this area."