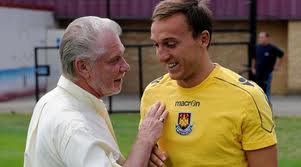 David Gold injected some optimistic realism into this afternoon's clash against Leicester City declaring: "We aren't heading for Manchester City or Chelsea are we?"
All week we have been getting dour warnings of how tough it will be in the east midlands but the co-chairman declared: "We have Winston back – our back four in place and a strong midfield…we aren't going to get beaten are we?"
S[peaking exclusively to ClaretandHugh he said: "Of course Leicester are desperate, of course they will be playing for their lives but I really don't think we should even be thinking about defeat.
"We have a good team – a very good team at our best – and the Sunderland win should have brought a lot of confidence so come on let's all get positive.
"Maybe a year ago I might have been worried but not this season…the fact that there are a number of contenders for Hammer of the Year tells you a great deal.
"We can't be in the mood to go up there thinking about their game – just our own. As I say we can't be thinking about anything other than coming back with points."