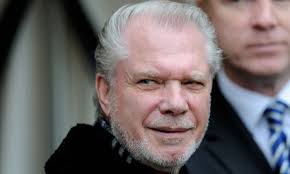 David Gold is vastly relieved that the Irons avoided a potential banana skin in the form of Leicester City.
The co chairman – like many fans – went into the game a little nervously believing this was exactly the type of game which could provide a slip-up.
But he said: "We were incredibly professional whilst again not being at our best with Stewart Downing's goal "worth the price of admission alone."
He said: "There have been so many special features to the season but the transformation of Stewart has been the most amazing perhaps.
"He's turning into the best £5 million worth anybody could imagine. How much is he worth now? Doesn't matter we'd never sell him! He's priceless to us
"But it's a little hard to process the fact that we bough nine players and every one of them has lived up to or exceeded all expectations.
"Even on a day when we were down on our level of performance we were more than good enough to get the job done in what was never going to be an easy game."