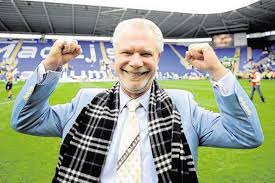 David Gold insists that he will not be leaving Twitter!
The well publicised error which saw him inadvertently favour a tweet calling for Sam Allardyce's dismissal has not put him off the social network.
After making it clear he was jet lagged from the New Zealand flight when mistakenly favouring the tweet , the co chairman spoke exclusively to ClaretandHugh about his attitude towards Twitter.
He said: "I believe it's by far the best way of keeping in touch with the fans and I won't be coming off it.
"You know exactly how people are feeling and it gives you the chance to listen and interact.
"I get hundreds and hundreds of messages and simply can't respond to them all but I try.
"I made a mistake – we all do it. I have done in the past and no doubt will in the future but the record has been put straight and that can always be the case.
"I understand that Twitter is a little dangerous at times and I have fallen out with people before putting things straight in the past.
"But I feel I have a real obligation to the fans and Twitter is the best way of me keeping to that. I will always answer things as well as I can.
"Closing my account and leaving Twitter simply isn't an option."