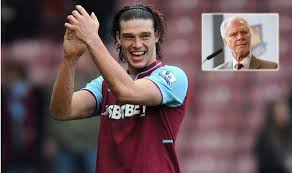 Co-owner David Gold can't wait for next season believing the Hammers could set out on one of their most successful seasons.
And there's one very good reason for that – a certain £16 million striker named Andy Carroll.
Let's get something straight here! Whether we like or dislike Sam Allardyce's style of football, AC couldn't be more crucial to the way West Ham are supposed to play.
Indeed it's probably fair to say that his presence in the West Ham team may be more important than any other player in any Premier League side.
And it has to be admitted that given his near six month absence from the side this season, the position we now occupy is something of a miracle given all the other injuries.
DG believes that he will come to us as a 'new signing' next season declaring: "It's going to be absolutely great to have a fit Andy through the entire season hopefully – who knows where that can lead us. It really is something to look forward to.
"For the team to have survived so well given his injury and the others we have had is incredible. It will be great to have a fully fit Andy throughout next season."
The board are pledged to giving as much support to the manager as is possible with DG adding: "There's an idea around that we decide on a transfer kitty figure and leave it at that.
"The facts are though that Sam will come to us with his targets and we will do everything we can to make those signing possible.
"We have made it clear that we want to bring in three or four players and will will look at the targets as a team and do our very best to make it happen."