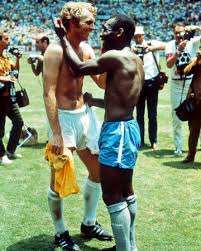 TODAY is FOOTBALL SHIRT FRIDAY In aid of the Bobby Moore Fund
The inspiration behind Football Shirt Friday comes from the famous shot of Bobby Moore swapping shirts with Pele at the 1970 World Cup in Mexico.
A close friend of Bobby's , Pele says, "The picture of Bobby and I swapping shirts at the 1970 World Cup brings the memories flooding back.
It remains iconic to this day and I think it's a great inspiration for the Bobby Moore Fund's Football Shirt Friday!
Swap your favourite football shirts with your friends in April, and help Make Bobby Proud by supporting life-saving bowel cancer research". It's for Bobby, and supported by Pele. Do it. http://bobbymoorefund.cancerresearchuk.org/get-involved/football-shirt-friday/football-shirt-friday To text your donation, just text GOAL00 followed by the amount you want to donate to 70070. If you'd like to donate £2, text GOAL002 to 70070*.