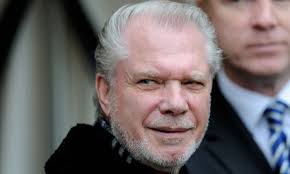 Co chairman David Gold admits is slowly accepting that the West Ham United of 2014-15 is "a very good side."
The co-chairman is the most careful of men and in an exclusive interview with ClaretandHugh said: "When you reach the stage we are at and keep winning games you start to believe this is as good a team as we thought earlier.
"I found myself wondering last Sunday when we went behind 'Uh ha has the bubble burst' but then we bounced back and won convincingly.
"It spreads from the players. These are confident young men sure of their own ability and they are  performing in a way which is spreading confidence into us all.
"Everybody has had a difficult time processing what's been going on at the club this season but we should now start believing that we are as good as we think we are.
"Every team has its good little run but when it reaches this number of games I think we can be confident – I don't want to tempt fate but you have to start believing don't you?"
Gold is off to Sunderland tomorrow (Sun) knowing that the players, fans and club employees are in great heart and expecting a win.
He said: "We have to believe that we will come away with something. It's the biggest cliche in the world but the league table doesn't lie.
We disrespcet no team but it's fair to say it will be a big disappointment if we don't come back with something."