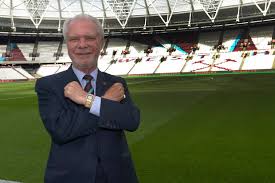 David Gold finds himself in "personal" approval with the Premier League's proposal that the summer transfer window should close on the opening day of the new season.
The issue has been put on the agenda for the next meeting of Premier League chairmen on September 7 and sources close to the negotiations are confident that the vast majority of the 20 clubs will vote for the change.
And Gold believes that to preserve integrity of the League it needs to be passed without hesitation.
Although the Hammers have not stated their official position Gold was happy to give his view to Claret and Hugh exclusively declaring: "I'm a big supporter of the proposal.
"I can't support a situation where somebody plays for us as the season starts but could well have joined another club by the end of August.
"The League is all about honesty and integrity and from our point of view I think that is entirely the right way to go. Some of the bigger clubs may not  like it because it means they can't compete with the big foreign teams who may well have an advantage over them.
"But I believe it's the right way to go. Obviously we will discuss it as a board before the meeting on September 7 but for me personally it makes perfect sense."