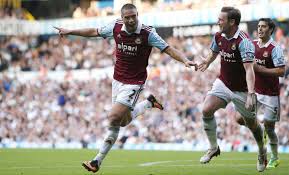 Within  minutes of posting a video of the Hammers arriving in New Zealand this morning ClaretandHugh was receiving despondent messages from all over telling us that Winston Reid looked like a man preparing to leave the club.
Confronted by a local hero, it didn't take the Kiwi media long to start addressing the issue of an unsigned West Ham contractwhich ClaretandHugh understands to be in excess of £60k a week.
And we are told it will stand until he returns from his homeland when the club will want a decision which is par for the course with our management when negotiating with our top players.
They need a decision from them in order to plot a way forward as, to quote the oldest cliche in the game, no player is bigger than the club and to avoid last minute assents should any bids fail to  come in.
However, before anybody  starts assuming the worst, let's remember just two things:
O  Winston had just disembarked from a  a 23 hour flight and clearly wasn't at his best – who would be?
O and he is known to be one of the most laid back men in the world and not one who would make bold proclamations on such an issue either way.
Given the size of the offer made to him, it will take a top six club to come in for him to do better and that hasn't happened yet.
At the moment it looks like a re-run of the Mohamed Diame situation but all should become clear within the next couple of weeks.
In the meantime, it would be unwise to start making predictions on what might happen based on a brief press conference at the end of a flight that would leave most of us shattered.
The media reaction was not unexpected but nothing has changed.
My view? Unless an offer comes in I think Winston would do well to accept a blinding deal for with no interest having emerged this summer or in the past he would be taking an enormous chance should he decide otherwise..