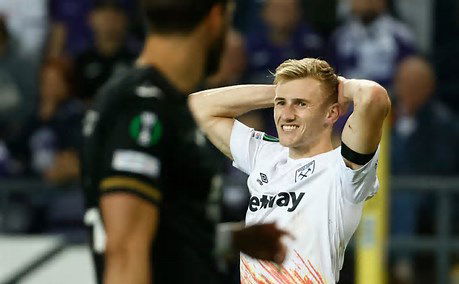 By Simon Leyland
Flynn Downes is the latest Hammer to discuss our improved intensity and as a result the upturn in the team's form.
Many would like to see the midfielder get more first team chances  but he appears to have had enough to make some salient points.
"I think we've got more smiles and it brings more intensity," said Downes. "People are having a good time and want to be here. You sort of chase the buzz of three points again so it builds momentum.
"I think the win at Everton got our backs up, everybody got a bit of confidence from that. It sort of picks up in training.
"The gaffer has sensed that as well. Going out on a Saturday, you can sense that we are more together. Hopefully we can just keep that going now.
"That's how it feels now. We have to keep that going now. Keep building momentum and get a few wins and we will be good."
Downes added that the togetherness shown in the squad has given the side encouragement that we will pull clear of the relegation battle they currently find themselves in.
"Yes, it is exactly that. I thought it was a tough game (against Chelsea)," added Downes. "You have a few tough results and everyone is calling for your head but we've got to stick together and with performances like that and Newcastle, we've got to string a few of those together.
"We hope to pull away. I do think we will. The boys have really picked up over the last few weeks. Keep that going, not worry about what other teams are doing and trust in ourselves to get those wins."
Downes, who has had precious little playing time since his £12million move to the London Stadium from Swansea City, got a whole 23 minutes (!) against Chelsea on Saturday, his longest amount of league minutes since before the break for the 2022 World Cup.
And he has certainly looked the part when he has arrived on the pitch at times being unfortunate to maybe not score on a couple of occasions whilst showing himself as  a good passer of the ball and ready to close down hard when used in a defensive midfield role.
Nevertheless, it is heartening to hear that the lads are still feeling confident about our current predicament.