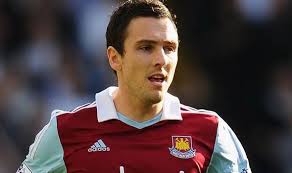 Stewart Downing believes he will be ok for the clash against Everton at the weekend after playing less than 100 per cent fit for England against Scotland last night.
Downing revealed he had not trained all week but was passed fit for the match which saw him play on the lef side of midfield for 45 minutes before being subbed at half time.
Speraking to the national press he said: "I should be fit for the weekend . 'There's a bit of swelling on the knee but it's just a bang. I was fit to play and I was fine.'"
Having received a lot of criticism on Twitter for a lack-lustre performance the Irons star said: "'It is all about people's opinions. As long as I am picked and playing then I am happy. That is enough for me. 
"Everyone has an opinion in the world of football. Of those picked last night  some will think he should be in or it should be him and so on.
"That is just the way people talk but I am happy to be back in the squad and just have to stay there now."