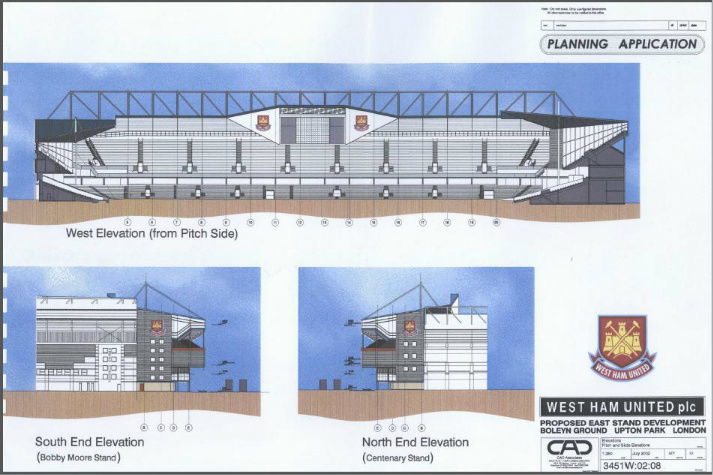 New planning documents submitted by the Galliard group last week reveal that the Boleyn Ground East stand could have been redeveloped to make it a 40,000 seat stadium without moving home to the Olympic Stadium.
The Hammers were originally granted planning permission to redevelop the East stand back in 1999 when planning permission as granted to redevelop the West Stand. Planning was granted again in 2006 when new plans were submitted which can be seen above. This new East stand would of taken the Boleyn Ground capacity to 40,356. This permission expired after three years before the present owners took charge of the club.
Arguments given during the first bid for the Olympic Stadium against reviving the East Stand redevelopment were the close proximity of the Upton Park Bus Garage and that any new East stand would block the light of the flats behind it. Upton Park bus garage was shut down a few years ago after the largest bus garage in London was built close to West Ham underground station so that reason has gone.
As for the light problem, Galliard now propose that two blocks of high rise flats will be built along Priory Road in the space vacated by the East Stand, these blocks will be eleven stories high while the existing flats behind are only nine stories, the current East Stand is according to the developer is  between 4-6 stories. It does raise the question whether the redevelopment of the East Stand was more viable than we were led to believe before our bid for the Olympic stadium.
Below is an illustration of what the new development will look like from Green Street.