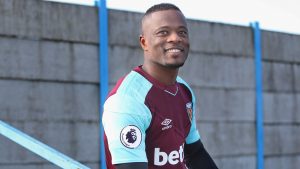 Patrice Evra refuses to tell the Hammers fans how to behave because the fact that 50,000 of them are inside the London Stadium says it all for him.
The joke a minute left back took time off from his various comedy routines to make some very serious points cheif among them that there is nobody anywhere more committed to West Ham than the club's loyal fans.
And he said: I won't ask them to sing for us, because just the fact that they come to the stadium, 50,000 people, is enough for us to understand and we have to respect them. I can't wait for Saturday. This has been my mentality throughout this three-week break.
"We have to perform. It's easy for us to say that, but talk is not enough. We must do it. Nobody can hide from this situation.
"We need to thrive on the pressure, because there will be a lot of pressure, and the senior players need to take responsibility and perform and realise how lucky we are.
"Playing for West Ham is an honour and I always used to remember how hard it was to play against this club when I was with Manchester United.
"West Ham is a really popular club and I love this kind of club because, when you put the shirt on, you are playing for all the people who come to watch the game, who have sacrificed other things to buy their ticket. We should all think about that when we start the game.
"I want them to be happy, to see me fighting for their shirt and playing well. That's my message."
Among all the words from the players these – it seems to me – are the most valuable so far