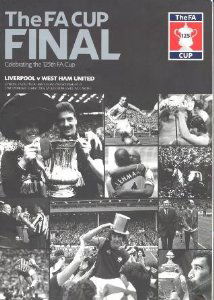 Steven Gerrard's long-range goal against West Ham in injury time in 2006 has come top in a BBC vote to find the best FA Cup final goal from the last 50 years. It is still painful to watch now.
Gerrard later said in his autobiography.
"Everyone associated with West Ham behaved with real dignity in Cardiff, just like the way I try to be in defeat. If they had won, Liverpool could not have complained. Too many of our players were too disappointing. West Ham were desperately unfortunate to lose. Having played so well, it must have been gut-wrenching to go home without the FA Cup, yet they were all gracious.
"It really moved me that in their hour of utter desolation, West Ham fans stayed behind to applaud as I lifted the FA Cup. I'll never forget that sporting gesture. I'm Liverpool through and through, head to toe, but I have a place in my heart for West Ham supporters after Cardiff.
"Fans like West Ham United's make football special. Usually when we do a lap of honour with a cup, the opponents' section is empty. The fans have disappeared, dragging their heartache with them. Not in Cardiff on 13 May 2006.
"The West Ham fans were tremendous, clapping us as we paraded the cup. Both sets of fans were brilliant, which made it such a terrific occasion."