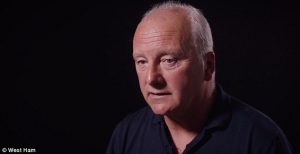 The FA are insisting that they see e mails from West Ham transfer chief Tony Henry claimed he did not want the club to sign any more African players.
The alleged comments have led to Henry's suspension and the club could  be charged with misconduct if they do not comply with the request to disclose the e-mails.
The e mails are claimed to show an exchange between him and third parties which were published in the Daily Mail
Henry allegedly told agent/s he didn't want to sign African players because they had bad attitudes and could cause mayhem.
Senegalese midfielder Cheikhou Kouyate took to social media on Thursday morning to post: "African and proud" and other players are said to have sought answers from the club over the issue.
In a statement the club said: "The club can confirm that director of player recruitment Tony Henry has been suspended pending a full and thorough investigation. West Ham United will not tolerate any type of discrimination and has, therefore, acted swiftly due to the serious nature of these claims.
"The West Ham United family is an inclusive one where, regardless of gender, age, ability, race, religion or sexual orientation, everybody feels welcome and included.
"The club will make no further comment until the investigation has been concluded."