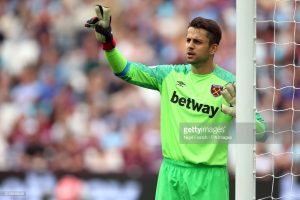 There's not much more to be SAID about Lukasz Fabianski – so the fans are SINGING  their praises.
The former Swansea man kept us alive again at Selhurst Park on Saturrday with yet another performance right out of the top drawer and the fans -were singing his name very loudly.
You truly know you have arrived as a player when that happens and whilst Fab isn't dwelling on it he is clearly chuffed whilst again pointing to the things he's not so happy about.
That's the way with total pros. You are looking at the areas which need to be worked on rather than those that are regularly catching the eye.
There were at least three top saves at Palace but a lucky equaliser spoiled what would otherwise have been a great afternoon.
That however, didn't stop Fabianski pointing the finger at the number of games which are passing with the team failing to keep a clean sheet – his first consideration obviously rather than personal adulation.
He said – when asked on his feeling about the singing – "I'm pleased. Obviously, there are some things I am not so happy about. As a team and especially for me, the [four] clean sheets are not as good as I would have hoped, but that's something we have to work on.
Speaking to www.whufc.com he said: "For me personally, so far it's been good. Coming from a different team and being a new part of this club and having this opportunity, I'm basically just doing my best to help the team and I think I'm doing an OK job and hopefully it will continue.
"That was a cool moment to hear the fans sing my name. It wasn't the first time, but it was the first time they were singing it that loud, so I could really hear it. That was something special and I really appreciate their appreciation of me and the way I've performed for the club.
"I'll just continue to do my best for myself and for the club and represent myself in the best way possible and try to just continue to do my best on the pitch."