West Ham boss David Moyes remains very much the main topic of conversation among Hammers fans. A victory tomorrow could help take the limelight from him.
In an earlier article Hughie spoke of the problems he could see in team spirit and that this wasn't necessarily all down to the boss.
Many have disagreed and one ClaretandHugh Facebook follower Johnham1 makes his feelings on the manager and article crystal clear.
Other blogs from readers are always welcome by CandH. Follow us at (3) CLARETANDHUGH | Facebook
By Johnham1
The problems are down to the manager in the article you mention.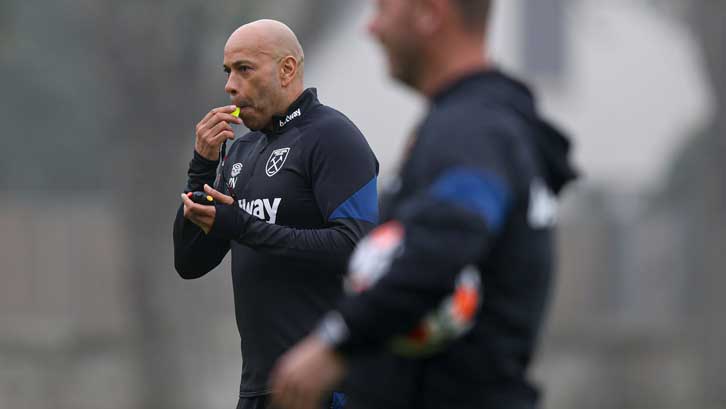 Nevin may be an answer if Moyes goes
Stuff like players out of form is critical. If  a player is out of form for any period of time you stop picking them but Moyes has continually picked Kehrer, Soucek, and Bowen despite their form.
It is not a player's fault if he is out of form but picking them consistently has affected the overall team performance.
The manager has regularly failed over time to the tough calls (btw I don't see them as tough decisions).
If he picks the three of them in the team again at the weekend we will be in the bottom three and he will deserve to get what is coming to him (long overdue,
I said it at the start of the World Cup he had to go  as nothing would change and so it has been proved. When players see good players been taking off and poor players being left on the pitch then it will naturally affect players confidence and performance.
A prime example of this was against Leeds when at 2-1 up he withdraws Coufal, Fornals, and then he takes off Paqueta and Scamacca.
He leaves players like Kehrer on the pitch and brings in players like Cresswell and Antonio. Both have been great for the club but in particular Antonio offers you nothing any more.
Moyes made the decisions and as a result team and individual performances drop on the pitch. Who is to blame? The manager!
Moyes does not go for the win, he is too negative holding on for the win, I have seen Moyes manage for years and this is exactly how he works. He does not make changes unless he has to and and often it is too late.
He generally does not take a player off who is performing poorly until we go 1 down. So for me there is only one person to blame for where we are and it is Moyes.
For me D Day has arrived this weekend where the excuses need to stop. Lose and we are in the bottom 3 and there is only one decision for the board to make.
At this stage I would accept Nevin being given a chance in a caretaker capacity as long as he demonstrates an attack minded philosophy and positive approach to team selections and changes mid game, but some change has to happen if we lose at the weekend.
Moyes is holding the team back in a way that is spiralling us to relegation.
Finally I watched Southampton last night against City, they were excellent, I would not be confident of beating any of the bottom 3 while Moyes is still in charge.