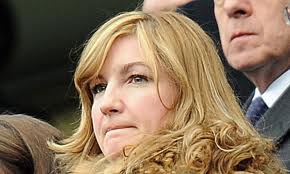 Tony Fernandes wanted  to buy West Ham for nothing declaring it would be worth 100 per cent more with him running it than David Gold and David Sullivan!
The Championship outfit is of course now £65 million in debt and facing a seriously worrying future – so thanks for that TF!
Karren Brady – writing in her national newspaper column today – said: "Whenever I hear the name Tony Fernandes I do have to smile. He once offered David Sullivan and I the chance to go into business with him.
He offered to buy half our club for nothing, on the basis that it would be worth more with him running it, than 100 per cent would be worth with us running it. We politely declined!
What he didn't understand is football is not like running a normal business and many talented people have failed to be even moderately successful in football. In numerous cases, from Derby to Palace, the club has taken the owner's entire wealth and left them with nothing.
West Ham, on the other hand, will be posting profits this year and our revenues are now the eighth highest in the Prem.
Plus we are moving to the third largest stadium in the PL in 2016 and turnover is up over £120million.
Some say that if you want to make a small fortune out of football, start with a large one!"