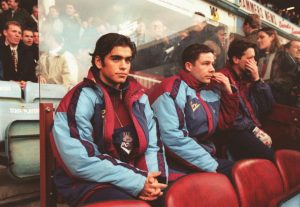 Former Hammer Dani Carvalho says he "cried every day" during his time on loan at West Ham in the nineties under Harry Redknapp. Speaking to Tribuna Expresso, Carvalho said: "For the first two or three weeks I cried every day.
"I spent hours on the phone with my parents. I was 18, alone in London, living in a two-story apartment with no driving license. I felt isolated and missed the day-to-day stuff as I used to have dinner with my parents and my sister every day. One of the newspapers wrote 'Lock up your daughters! Dani has arrived!'
"Then I was contacted by a modelling agency who built and strengthened my image as a 'handsome boy'. They started to take me to the film premieres and they introduced me to producers and so on and that's when I began to live London life in earnest.
"I was suddenly with Brad Pitt, Bruce Willis and Kate Moss by my side at movie premieres. The Twelve Monkeys was the first one I went to. Sometimes I couldn't believe what was happening! I thought it was a joke to be in those places so I tried to play and maintain that social life." 
"West Ham had an option to buy me, but the price wasn't set. When I arrived West Ham were were 16th in the table and after I got there we were soon up to seventh or eighth."