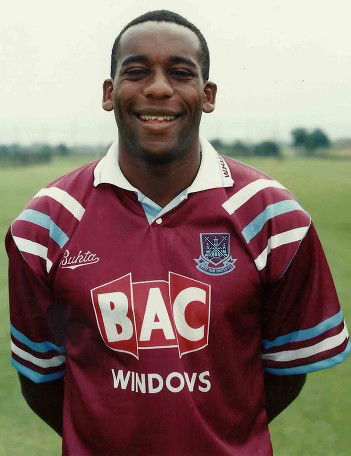 Former Aberdeen manager Derek McInnes revealed he wrote an apology letter to Hammer George Parris after being left sickened by an act of racism from football fans in the 1980s. The former boss was attending a match between the Hammers and his hometown St Mirren as a teenager but the contest was blighted by flashpoint from the stands.
McInnes – speaking in his Mail On Sunday column – called upon the incident ahead Rangers ' visit to Sparta Prague in the Europa League this week.
He said: "The first time I witnessed racist abuse was when I was 15 years old and I went to watch St Mirren play West Ham in a pre-season friendly in 1986.
"I'm from Paisley and West Ham's full-back George Parris was racially abused by several members of the crowd.
"I didn't receive a reply but I felt compelled to write a letter to Parris to tell him how disgusted I was about the abuse. Paisley is a good town and not everybody acts like those who abused him. I was hugely embarrassed.
"We've made massive strides but, after all these years, players are still being abused and that leaves a bad taste. When abuse is so obvious on the pitch, it's toe curling. It shows there's still a lot of work to be done on the situation."
McInnes is a Scottish professional football manager and former player who was most recently the manager of Aberdeen. He featured prominently for Greenock Morton, Rangers, West Bromwich Albion and Dundee United during his playing career. He won two caps for the Scotland national football team while with West Bromwich.
McInnes became manager of St Johnstone where he had been on the playing staff, in 2007. He guided the club to promotion to the Scottish Premier League in 2009 and retained that status for two seasons. McInnes was appointed manager of Football League Championship club Bristol City in 2011. Despite avoiding relegation in 2011–12, McInnes was sacked by Bristol City in January 2013 with the club bottom of the Championship. He was appointed Aberdeen manager in 2013 departing in March this year after eight years in charge.