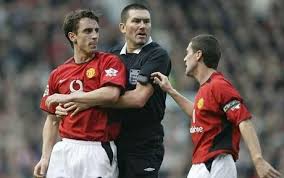 Former Premier League ref Jeff Winter (pictured left in his heyday) fears the  Football Association will treat Andy Carroll's appeal against his sending off against Swansea by the letter of their laws.
But he's called on the game's ruling body to take on the 'cheats' like Chico Flores whose shocking behaviour contributed hugely towards the Irons No 9 seeing red at the hands of Howard Webb.
Speaking exclusively to Claretandhugh  he explained: "Andy has had trouble with the flailing arms thing in the past – it's the way he plays and although he has barely touched the bloke – who has plenty of previous – he's paid a heavy price.
"Webb could only react to what he saw in a second and now it's up to the FA to decide whether there was intent there. Maybe there was but it's a very difficult one to say so definitely .
"I'm not sure I'd have got a red out for that – it was one of those 'orange' decisions I think that Flores' response more than contributed to the decision.
"Sadly, for Andy however, I think the FA will probably go by the letter of their laws which is tough for the Hammers and their fans."
Winter – author of  "Who's the b*****d in Black – thinks though  though that the time is long overdue for the FA to act and act hard against the "actors" and the "divers."
He said: They always say that they won't usurp refereeing authority but the truth Flores' behaviour was absolutely unacceptable and should be punished.
"At the moment they can't do so because it would mean they were punishing two people for an incident where they are having to judge whether the red card was warranted and there's nothing  to cover Flores!
"But there should retrospective action available in cases like this because what he did brings the game into disrepute.
"The Players Union are always called in but they are there to decide who's to blame when one of their member breaks another member's leg – ludicrous.
"Most referees would love it of there were bans for behaviour such as we saw from Flores or against serial divers…it would make their lives so much easier and you would see an immediate reduction of such incidents. "