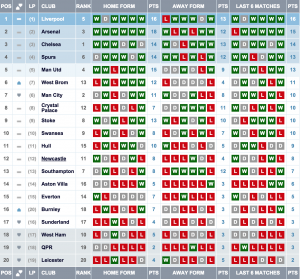 Hammers fans have reacted furiously to the Premier League's recent form table showing the club has sunk to 18th place on recent form.
It shows that we are just above QPR and Leicester City despite being fourth placeon Christmas day last year.
Many have seen as it the 'official last straw' for Sam Allardyce as they mounted an onslaught against the situation on the ClaretandHugh Facebook forum.
Here are a selection of the comments.
Stephen Snell
Can't blame injuries SAM picks the team and tactics unfortunately I think we had some lucky results before Christmas and now our true quality is not showing and be have been found out, only a convincing win on Saturday is required, we are simply not good enough at the moment, nowhere near, need to spend to build a squad, and that we will not do.
 G
raham Hatt
We have the ideal Manager in place should we get relegated.
Stephen Snell
Unless things change we will be relegated next season just in time to move into the OS, so the David's know what they have to do but do they have the balls to do anything about it, I think not, once they get the money from the Boleyn they will be off leaving us with nothing and a championship side
Martin Stacey
 D

espite my positive attitude normally, I've got a nagging sense of foreboding…..
Makes good reading though
William Field
So obviously time for change! Injuries yes! But Jarvis cost £10m so hardly a cheap reserve! A new manager is needed to inject some new ideas and skill to the team. Some serious financial backing will be required whoever the manager is going to be.
David Bray
The big worry about getting rid of Sam is who will replace him ? Gold and Sully have appointed some awful managers while in charge of Birmingham and west ham. We will NOT be attracting one of the top draw names I sometimes see mentioned in forums !!
Stephen Smith
We don't really need a diagram to demonstrate our form. The wheels have been coming off since Xmas. Nobody saying "don't panic" or accusing people of being 'negative' now! I didn't expect us to beat Arsenal tbh. We need two more wins to stay up IMO.
Stephen Snell
0% win rate in last 10 games, the whole team should look at that and say 'what the hell' any other club would have admitted their mistake and made changes.
Sean Gibson
At the start of the season if you said we would be on 39 points by mid March most people would have taken that. But offer the same at Christmas and you would have been laughed at and this is why he can't stay next season.