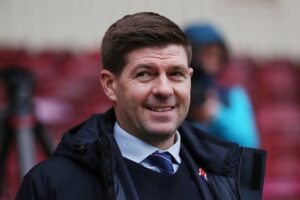 Declan Rice was singled out – not for the first time by an opposition manager – as being "superb" after yesterday's victory over Aston Villa.
Steven Gerrard also accepted that the Hammers had more about them than the midland outfit as another important win over an in-form side saw us hold onto sixth place.
Gerrard knows a thing or two about top midfield play and could not have been more impressed with our skipper whose days as a Hammer may well be lengthened in the summer when the Hammers prepare to offer him an increase on the biggest contract they have already made top a player in their history.
It was the skipper who was the architect pf our second goal with a stunning run out of defence to set up Said Benrahma's assist for Pablo Fornals' fine strike
And after the game the villa boss took no time at all in showing his admiration for Dec and the Hammers side.
He said: "I was impressed by West Ham in terms of how they looked on the pitch. I thought Declan Rice was superb today.
"The game plan from the beginning was to try and get around their two midfielders to stop them switching the play and dictating what a lot of West Ham were trying to do.
"Listen, (Rice) put in a strong performance and I was impressed by him.
"But we need more profile in our team, stature. Looking at both teams, there's a few areas where I thought West Ham had a bit more on than us.
"I don't think they did technically, in possession or creativity, but in terms of stature. How they defend, i.e. set plays and crosses, I think there was a gap today."