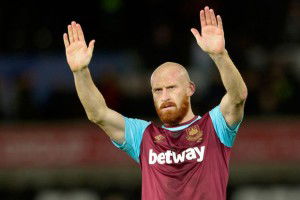 James Collins hopes to stay in London when his contract with West Ham ends this summer. The chances of a contract extension appear to be fading and even a six-month extension looks unlikely as it stands unless he is prepared to sign up for a pay as you play deal.
Ginge is said to be settled in the capital and therefore a bid from a London based Championship team such as Fulham, Millwall, Brentford or QPR is a possibility or possibly Charlton Athletic in League One.  Brighton showed interest in January but it remains to be seen if the interest holds up this summer for the 34-year-old who will turn 35 at the start of the next season.
The Welshman has played 170 league appearances in a Hammers shirt with a further 17 substitutions scoring 6 goals. In the FA Cup he has played 12 times scoring a further three goals for West Ham while he has made another 14 appearances in the League cup and other competitions to make his total appearances as an Iron reach 213.