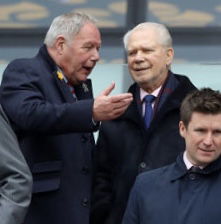 Barry Fry has laughed off social media chit chat that he is set to become the Hammers new director of football.
After the former Birmingham City boss had been spotted in the London Stadium director's box during the Southampton match, ill informed gossip immediately kicked off that he was on his way to the club.
But despite heavy sarcasm that their former SACKED St Andrew's manager would be an ideal person for the board to "hide behind," the Peterborough United director of football screamed with laughter at the suggestion.
He told CandH: "It's amazing  how this stuff gets started. Unbelievable! I love West Ham as a club and as the Posh had played on Friday night I was pleased to be able to support  the Davids and Karren Brady at the Southampton match.
"But lovely idea though it might be  to become DOF at the London Stadium it's not going to happen. I'm a bit long in the tooth for that and there is absolutely no chance of it happening.
"There's more chance of  the Hammers getting relegated which is never going to happen. Social media really can get silly can't it."