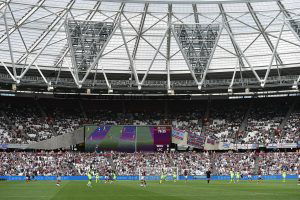 Research has shown that the average Premier League football fan ducks-out of home games seven minutes and 37 seconds early to avoid the hustle and bustle of leaving the stadium and the inevitable traffic getting away from the ground.
The findings, from money saving website Voucherbox.co.uk, reveal that the average Premier League fan missed eight goals by leaving early last season, representing an average wastage of £72.63 of a season ticket price, based on the share of goals missed.
West Ham fans leaving 7.5 minutes early last season missed 5 home goals last season. In the case of the Hammers, 26% of home goals were scored in the last 7.5 minutes.
Already this season you would have missed two home goals by leaving early in just three games played at the London Stadium.  Arthur Masuaku scored in the 93rd minute of the Bolton cup game and last weekend Cheikhou Kouyaté scored in 87th of the Spurs derby.
League table of last 7.5 minutes of home league fixtures for 2016/17 season:
| | | | | | | |
| --- | --- | --- | --- | --- | --- | --- |
| Team | Goals for | Goals against | Total goals | Season ticket price | % of goals scored by home team in final 7.5 mins | Wastage of ticket price |
| Arsenal | 7 | 2 | 9 | £1,035 | 18% | £185.77 |
| Chelsea | 11 | 1 | 12 | £750 | 20% | £150.00 |
| Southampton | 4 | 3 | 7 | £584 | 24% | £137.41 |
| Everton | 10 | 3 | 13 | £515 | 24% | £122.62 |
| Swansea City | 7 | 6 | 13 | £419 | 26% | £108.63 |
| Crystal Palace | 5 | 6 | 11 | £420 | 21% | £87.50 |
| Manchester United | 4 | 2 | 6 | £550 | 15% | £84.62 |
| Bournemouth | 5 | 5 | 10 | £550 | 14% | £78.57 |
| West Ham United | 5 | 5 | 10 | £289 | 26% | £76.05 |
| Liverpool | 4 | 1 | 5 | £685 | 9% | £60.89 |
| Watford | 3 | 5 | 8 | £505 | 12% | £60.60 |
| Burnley | 4 | 3 | 7 | £390 | 15% | £60.00 |
| Tottenham Hotspur | 3 | 3 | 6 | £765 | 6% | £48.83 |
| Manchester City | 5 | 4 | 9 | £299 | 14% | £40.41 |
| Leicester City | 3 | 5 | 8 | £395 | 10% | £38.23 |
| Brighton & Hove Albion | 3 | 4 | 7 | £495 | 7% | £32.28 |
| Newcastle United | 4 | 2 | 6 | £329 | 8% | £26.86 |
| Huddersfield Town | 5 | 2 | 7 | £179 | 15% | £26.32 |
| West Bromwich Albion | 1 | 3 | 4 | £399 | 4% | £14.78 |
| Stoke City | 1 | 5 | 6 | £294 | 4% | £12.25 |