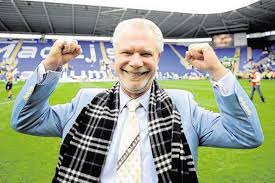 Co-chairman David Gold made a walk men half his age would have rejected as he strolled around the the Hawthorns at the end of the Irons' 3-0 win over West Bromwich Albion.
DG received an astonishing reception as he walked from his seat and – as the rain poured down – walked the entire circumference of the pitch before stopping in front of our supporters, applauding them and making the sign of the crossed Hammers.
It was an incredible display of passion from a man who has made the club his life and the fans could hardly have appreciated it more.
Among the supporters who witnessed DG's walk of pride was ClaretandHugh's Sean Whetstone who said: "It was incredible. The moment was so special. It was incredibly moving."
"Men of half his age wouldn't have done that but if anybody has any doubt about his passion and love for the club they should have been here this afternoon."
"What a man to have as our chairman – it was a fantastic moment I'll always remember – what a remarkable bloke DG is."