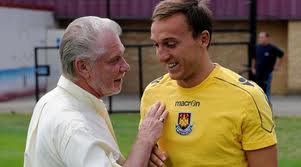 David Gold has revealed that to have reached the position West Ham currently occupy in the Premier League on the weekend of his and David Sullivan's fifth anniversary is "magical stuff."
He told ClaretandHugh: "Here we are seventh in the League beating the likes of Hull 3-0 with players like Kouyate and Sakho to come back.
"There were plenty of moans at our first half performance yesterday but when Sam went back to the diamond, the difference was immediate. That's us at our best and I think that's how we will stay now."
He made it quite clear that nobody could afford to see themselves as an automatic first teamer anymore saying: "We have so many outstanding players here now.
"Who for example would ever have thought that the likes of Mark Noble would need to fight for their places but that's the case now.
"Mark knows the position as do all the others. There are no gimees at West Ham United anymore. We are in a very healthy League position and off to Bristol for an important Cup tie.
"It's magical stuff and shows how far we have come this last five years. The fans should be celebrating – life is good."