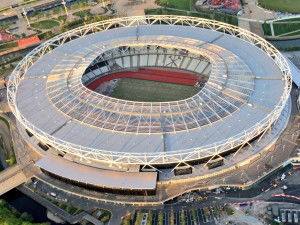 David Gold has dismissed rumours that the Olympic Stadium building programme is twelve weeks behind schedule and could be late for the start of the beginning of the Premier League season which starts on Saturday 13th August.
Asked by one West Ham supporter "Is it true the OS is 12 weeks behind? and might not be ready for the start of the new season"
Gold responded  "This is not true. The OS is on schedule. dg"
later repeating "The new stadium is on schedule. dg" to another fan.
The Chairman also confirmed although the current capacity of the stadium remains at 54,000 he is confident it will be increased for 60,000 in time for West Ham's first Premier League home game in August.
Gold tweeted "The capacity is currently 54K it will be increased to 60K for our first home game in the Premier League. dg"
Claret and Hugh understand that the Juventus friendly and any third round Europa league game will be restricted to a 54,000 capacity but it should be just a formality to get a new safety certificate approving a revised capacity of 60,000 before the start of the Premier League season.