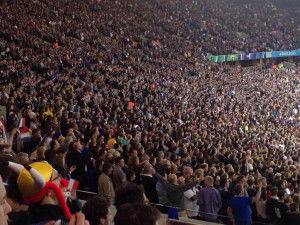 West Ham Joint Chairman David Gold hopes West Ham can increase to 66,000 before the end of 2017 but concedes that there are still a lot of issues to be resolved first.
Answering a West Ham fan question on twitter Gold said "I don't know when we will get approval to go to 66,000 as there are so many issues to be resolved but I would hope by the end of 2017 dg"
West Ham need to persuade operators London Stadium 185 to put in a capacity increase request to the Safety Advisory Group (SAG) chaired by Newham Council. Newham council and the Sports Ground Safety Authority (SGSA) would need to issue new safety certificates for the London Stadium before capacity can be legally increased.
The first request to 60,ooo to the SAG is expected in February with 3,000 partial season tickets being offered in Band 5 until the end of the season.  Half of these will be offered to existing season ticket holders and the other half to the 50,000 plus waiting list.
West Ham will then attempt to persuade the authorities to increase by another 6,000 in the Summer to 66,000 in time for the next of next season in late August. If approved these will also be band 5 seats and outside viewing previously considered acceptable for a UEFA catergory 4 stadium.