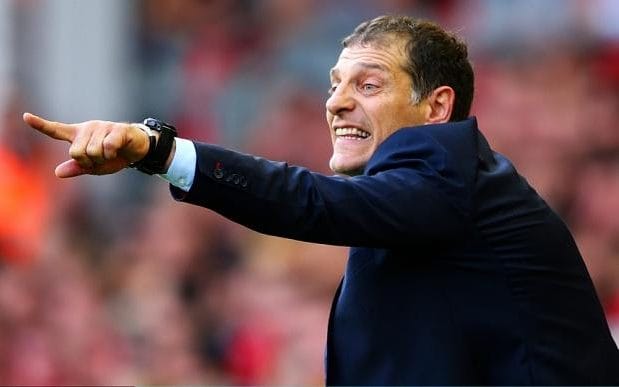 Those who voted in the ClaretandHugh poll that Slaven should remain as our boss were, in our opinion, 1,000 per cent right!
Nearly 70 per cent of you preferred him to prospective candidates in the last one and we were thrilled that he continued to enjoy such a high level of support among you.
ClaretandHugh is as happy with the man as manager as it was in despair when Sam Allardyce was in charge and will continue to give him every inch of our backing.
We wrote last season that this one was going to be mega difficult at a stadium so far removed from the Boleyn, and the Dimi Payet Affair has been as difficult a problem as it gets and he handled it with total expertise.
He has returned us to a team that at our best loves to attack and provides highly inventive football and despite issue after issue – exacerbated by the media of course – has now pushed us into the top ten.
The reaction given by the players at St Mary's shows that the dressing room is 100 per cent behind him given what happened last Wednesday night.
Meanwhile last year's champions Leicester City languish in a real and shocking relegation battle yet their manager rarely finds himself in the headlines.
It's wrong and it's unfair that with 31 points in the bag Slav continues to find himself at the centre of such speculation. To ensure our position is 100 per cent clear we say this here and now:
ClaretandHugh wants Slaven to carry on until the end of his contract and way beyond. The man is a Hammer through and through and is a guy we have waited for over a long time.
We trust him and have faith in him to sort out the home form which he always said may suffer. Claret and Hugh believes Slav is the man.
And please do not understand our polls which give you the chance to send the same message to the board.