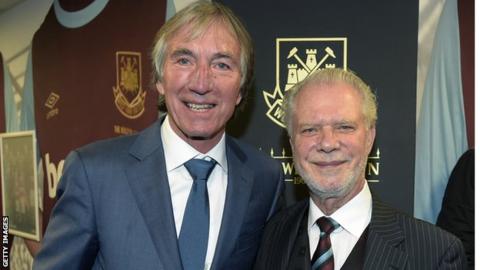 David Gold's mind will drift back over the years to the day he bought his first Hammers season ticket when – with the rest of us – he stands to pay homage to Billy Bonds on Saturday evening.
The club will be opening the Billy Bonds Stand ahead of the Newcastle game and a host of former players and special moments are planned for the great man.
But for Gold it will be a reminder of that "magic moment" when he was able to afford that Hammers season ticket for the first time.
He can't quite remember the precise date but believes it was in 1966 recalling Bill as being his hero of that time and saying "I would have been approaching my thirties and was earning decent money for the first time. A season ticket was a big priority."
Now, as co chairman, he has been part of the process which sees Bonzo honoured and ready to confirm the legend status with a permanent reminder of his greatness at the stadium.
And speaking to CandH exclusively he said: "He will have a place of honour in the directors' box. In my time he was the heartbeat of the club and the admiration I had of him as a player may even be outweighed by the respect in which I hold him as a man.
"He is such a family man and a really lovely humble guy. He deserves this as much and more than anyone I could name.
"He, Trevor Brooking and Bobby Moore are the first names of the lips of Hammers supporters when discussing our past and that they are now all in the new stadium with a stand of their own is exactly as it should be.
"It's going to be a great evening for a great man and we are all proud to be a part of it."