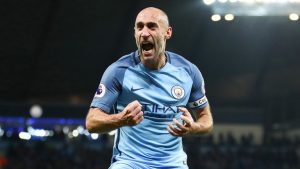 Welcome Pablo Zabaletta – Argentine right back, still a top defender and from all my Manchester mates tell me, a great bloke.
Yeah of course there will be the moaners who reckon he's coming to us too late and already I hear the "arriving at the end of his career" grumbles.
Not many players get huge farewell ceremonies from their clubs – when they are foreign it's even more unlikely – but such was 'Zab's' cult hero status after nine years and 230 games on his last home appearance.
If "coming to the end of your career " involves making 32 appearances for a top club – as was the case last year – let's hope there are a few more like him out there.
It will be interesting to see how the manager uses him – whether he is first choice or shares the right back duties with Sam Byram who is clearly going to learn a lot watching him and playing on the same training pitch with the guy.
Had we signed the former Gooner Bacary Sagna (34) I may have had some misgivings.
But in Zab – a bloke who talks with a Manc accent, can be seen queuing up in the local chippie and shunned the upmarket side of the city for a more humble home I reckon the club has landed a great bargain.
He's also a serious dressing room presence and has great leadership qualities. So well done – top signing now let's bring in the strikers we need.
COYI