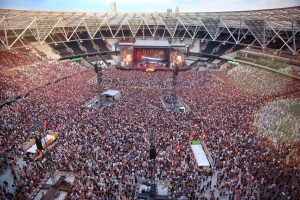 Green Day music fans are still in limbo with the band yet to officially cancel or postpone their London Stadium concert in June.
In February they announced the band announced they were postponing Asian tour dates but refused to move European dates.
Their Hella Mega Tour was due to touch down in London on Friday 26th June but the chances that social distancing will be relaxed enough to allow a crowd of 80,000 to mix freely together seems remote. The logistics in taking everyone's temperature on entry also seems an impossible task.
Yesterday Bon Jovi became the latest to announce that he was cancelling his entire 2020 tour saying "It is no longer feasible for Bon Jovi to tour this summer.  Given these difficult times, we have made the decision to cancel the tour entirely.  This will enable ticket holders to get refunds to help pay their bills or buy groceries,"
West Ham retains overriding priority at the London Stadium and there is a very real chance they will be playing games in June to complete the Premier League season.
Major League Baseball has already confirmed they will cancel their London Stadium series this summer but UK Athletics are holding firm insisting they want their Anniversary games to go ahead in July. The absence of the cancellation of the Green day concert and the Anniversary games probably has more to do with contracts and compensation than it has to do with the reality of either event going ahead. Neither event can be hosted behind closed doors and both parties are probably holding out for a compensation package from the London Stadium owners should West Ham take priority.