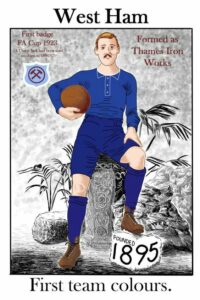 Thames Ironworks Football Club, the club that later became West Ham United, was founded by Thames Ironworks and Shipbuilding Co. Ltd owner Arnold Hills and foreman Dave Taylor on 29th June 1895
An article in the Thames Iron Works Gazette read "Mr. Taylor, who is working in the shipbuilding department, has undertaken to get up a football club for next winter and I learn that quoits and bowls will also be added to the attractions." 
Fifty would-be players paid half-a-crown for a year's membership, and Taylor spent the summer arranging the fixtures for Thames Ironworks F.C. and their reserves. Before the Irons played their first game, Taylor returned to refereeing, handing over organizational duties to Ted Harsent, who became the first club secretary.
Thames Ironworks took over the tenancy of The Old Castle Swifts' Hermit Road ground in Canning Town until their eventual eviction in October 1896. They would briefly play at Browning Road in East Ham, before moving to the Memorial Grounds, a stadium which was situated close to where West Ham station now stands. The ground was built at Arnold Hills' own expense, costing £20,000.
At the end of June 1900, Thames Ironworks F.C. resigned from the Southern League and were officially wound up. On 5 July 1900 they reformed under the new name of West Ham United F.C at 55 Barking road and accepted an offer of the Southern League place left vacant by Thames Ironworks.
West Ham will mark the Anniversary on Monday with the launch of special celebration kits for 2020/2021 season plus other content on their digital.