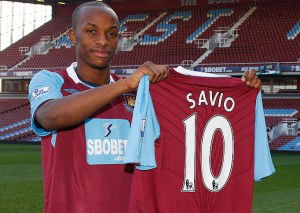 West Ham could face Savio in the Europa League third round.  Savio Nsereko signed for PFC Beroe Stara Zagora earlier this year who face FK Atlantas Klaipedia  on Thursday night in the first qualifying round of the Europa league.
West Ham previously carried out investigation into the £8.3 million transfer of Savio Nsereko from Brescia in January 2009. Savio made just one Premier League start during a seven-month spell at West Ham "The deal is something I'm investigating," Karren Brady said in her Sun Football Diary column in the Sun in November 2012. "Just before this board took over, the club paid a huge amount to Brescia for the German Under-21 who took part in a handful of matches and then departed for Fiorentina at a fraction of the price."
Savio was once hailed "the talent of the century" in German football circles, when Savio Nsereko won the 2008 European Youth Championship under coach Horst Hrubesch. He was sold to Fiorentina for a reduced fee of £3m according the Telegraph, with Manuel da Costa going the other way as part of the deal. West Ham retained the rights to 50 percent of the player's sell-on fee. Manuel Da Costa who later had personal problems of his own was sold by West Ham for 1.5 million Euros.
Savio never broke into Fiorentina's first team and in January 2010 was loaned out to Bologna. In July 2010, he was sent back to Germany, joining 1860 München on a season loan; the loan agreement was however cancelled in October, after the player was reported missing for a week before being found at his sister's place.He was later loaned to Juve Stabia but after only one game with the club, Savio was reported missing once again in 2011.
In 2012 it is claimed he called his family from Thailand telling them he had been abducted and demanding a sum of 3,000 euros (£2,400). However, police arrested him after becoming suspicious at the small ransom demand. He later claimed it was a misunderstanding.
In 2013 he was back in the headlines for the wrong reasons. According to German website Bild.de he stole a watch from his own team-mate, Salvatore Amirante, who was recovering from a knee injury while playing in the German regional leagues with FC Viktoria Koln.
Since then Savio has played for a number of obscure football teams around the world.